A clean, well-functioning fitness center is considered a perk to potential tenants in apartment communities and guests at hotels — not to mention paying, card-carrying members at local gyms. Seeing a "Sorry, this machine is out of order" sign on a treadmill or elliptical just might cause a patron to question whether you are keeping the place up. Guests expect to get what's advertised, so having malfunctioning equipment limits their workout options and makes them question the safeness of your establishment. All of this puts your facility in a bad light.
Never again should you lose patrons or get bad reviews because your exercise machines are down. Getting immediate repairs for downed machines shows that your establishment is dedicated to peak performance. Plus, it allows your patrons to depend on you and expect quality service!
We can ensure this quality service when you turn to us for treadmill repairs. In addition to treadmills, our team repairs and maintains a wide selection of fitness equipment including ellipticals, stair climbers, exercise bikes, rowers, and strength equipment — basically everything in your gym! We are recognized by all the top manufacturers in exercise equipment and our technicians have received years of hands-on training.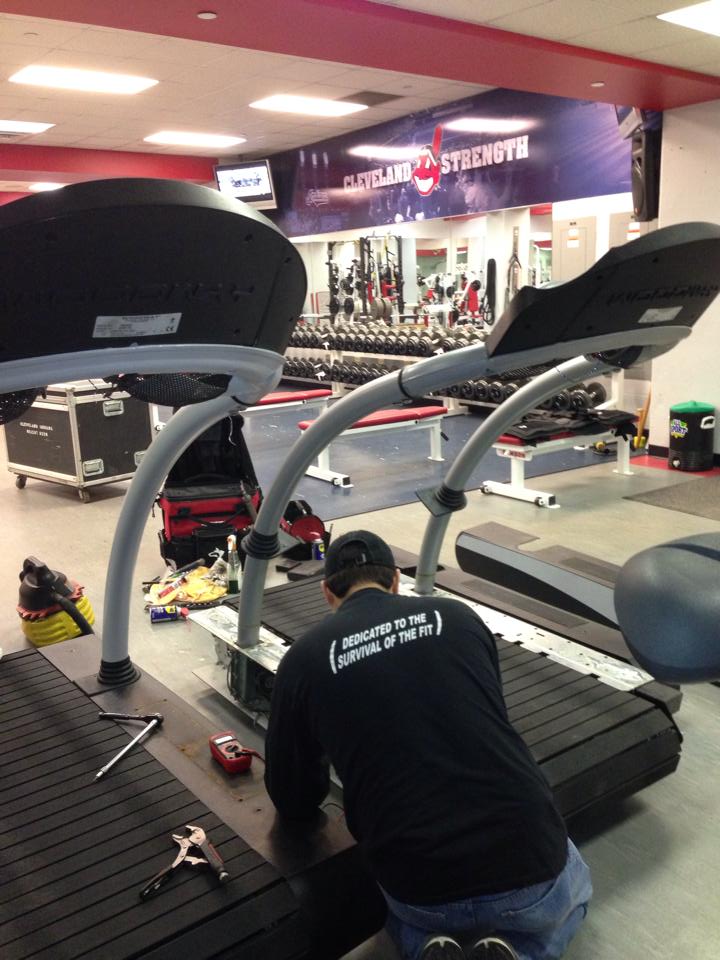 Our commercial fitness equipment repair service offers the following:
Inspection
Troubleshooting
Cleaning and lubrication
Adjustment
Installation
Relocation
Preventative Maintenance
And parts replacement, among others!
For over 40 years, we have extended our commercial fitness equipment repair services to clients in the northeast Ohio area. We are committed to getting your exercise machines back up and running so that your patrons are satisfied. Gym equipment repairs can really slow down your operation. That's why you need a long-standing relationship with a trusted repair service that stands behind principles like timely service, professionalism, in-depth knowledge and cost-effectiveness.
In addition to providing fitness equipment repair services, we also offer scheduled preventative maintenance so you can sidestep costly major repairs and reduce the downtime of your fitness machines. Since the Zimmer family has been in business for nearly four decades, we also take pride in educating our clients in the proper cleaning and use of your gym equipment so you can get the most bang for your buck!
Zimmer Fitness Repair is a one-stop source for all your fitness equipment repair needs. We can fix downed equipment, provide regular maintenance, and even offer new or pre-owned replacement equipment. Call us at 330-241-5593 to learn more.
I am pleased to work with Zimmer Fitness Repair for a variety of reasons. I appreciate that they show up at our facility soon after I call with a problem. The problem is always fixed in a very timely manner, and if it cannot be repaired quickly, I am always informed as to the progress of the repair. I have come to count on them to keep our Cardiac Rehab equipment safe and in great shape.
Anastassia T., Exercise Physiologist, Cardiac Rehabilitation
PREVENTATIVE MAINTENANCE
Whether your business has one treadmill or twenty, we have the right preventative maintenance plan to meet your needs. We can inspect and repair your equipment on an annual, semi annual or quarterly basis to ensure its safety, overall working condition, and to prevent costly repairs.
---
EQUIPMENT REPAIR
Our experienced technicians can handle any repair that may be needed to fix and maintain your fitness equipment. Before you throw it away, talk to us first!